For everyone on this planet that is aware of the word "Covid", the years 2020 and most of 2021 have been life-altering.
Just a quick rundown of what's happened since the last post that was on this site:
Sunday, March 8, 2020 – David and I purchase a Columbia 5.5 so we can race in the estuary, 3 people, with our friend Aaron.
Friday, March 13, 2020 – I learn of this "tsunami" of Covid heading our way, and move my desk, computer and monitors back into our 1-bedroom condo. Unknown to David at the time, this was also his last day at work. Ever.
Monday, March 16, 2020 – Covid lockdown in the Bay Area. We've been told we shouldn't be leaving our homes, we shouldn't be sailing, we shouldn't be seeing our friends, and it's impossible to find toilet paper suddenly. Within a week, David starts running stretch classes online, and I continue to work. In a 918 square foot condo with a fantastic view, we set up a studio for David in what was our dining room, and my office is between the living room and the kitchen. We work like this for 5 months, together all the time, both listening to each other work.
Late March, 2020 – We start sailing our Columbia 5.5 together on the estuary. Around that same time, we start drinking more wine every night, because there's nothing else to do but watch TV and drink wine.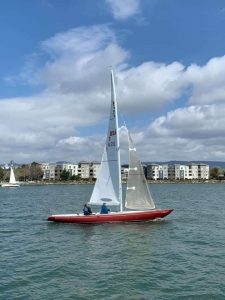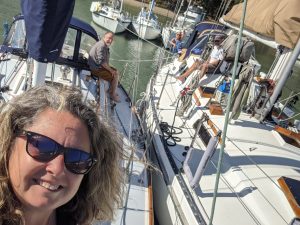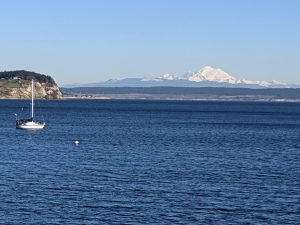 April 2020 – David's dad dies of Covid-19. Later that month we attend our first Zoom "funeral", where David's brother has taken dad's ashes to the Gulf in Mississippi (where Ed was from).
May 2020 – Impromptu estuary races start, and we start sailing more on the estuary. We still have our 1987 Sabre 36 in Point Richmond, and we're still working full-time out of our small condo in Point Richmond. We also start having regular happy hours with our friends on Zoom. Some friends are more Zoom-friendly than others.
At some point we start having weekly outdoor dinners with our friends Dustin and Holly, where we find a grassy area, bring a grill and our own food and wine, and sit 10 feet away from each other for dinner. This silly act became the high point of our lives!
August 2020 – Early in August, David is just finishing his 8a morning stretch class and I'm still reading the news. I say to him, "I have an idea." (I do not know where this idea came from, but it was a weird shot in the brain.) I say, "hey, you're always semi-jokingly talking about going to wooden boat school when you get older and retire. How about we sell out of the Bay Area, sell our condo, and move to Port Townsend (WA), and you can go to wooden boat school?" We were also betting on the fact that we were in a real estate boom that was just getting hotter by the minute, and we were living in a condo that was difficult to resell (we'd tried the year before so we could upgrade into a larger place). He calls a couple of people, and by noon that day we were ready to go. Never mind that David had never been to Port Townsend, it seemed like a good idea right? David applies for the Marine Systems intensive program, and we list our condo on the market again. We list it with the top seller in the complex, we stage it like she tells us to, and we move onto the boat. In late August, we go on a road trip to Port Townsend, and we discover a maritime culture and a beautiful quiet environment. Why not? On our way back from Port Townsend, the condo sells – full cash offer, 10 day close. We sign the contracts sitting outside of a cafe in Crescent City, and head back to Point Richmond to get things moving forward.
October 2020 – We arrive in Port Townsend, move into our massive Victorian rental in Uptown, and enjoy the next 2 weeks of weather… it was truly convertible weather… and then suddenly, just like that, the sun started going down at 4p and coming up at 930a. And it was dark. For many months. And it rained. For many months. It even snowed.
Two weeks after our arrival in Port Townsend, my mom and stepdad also arrive here and buy a house. We decide to wait on the house purchase, even though we are keeping our ears to the ground. Housing prices here are climbing, primarily due to the influx of Bay Area people. Plus, we're still not sure we're staying.
We continued to have happy hours with our friends, and weekly Zoom "dinners" with some of our closest friends, and still do to this day.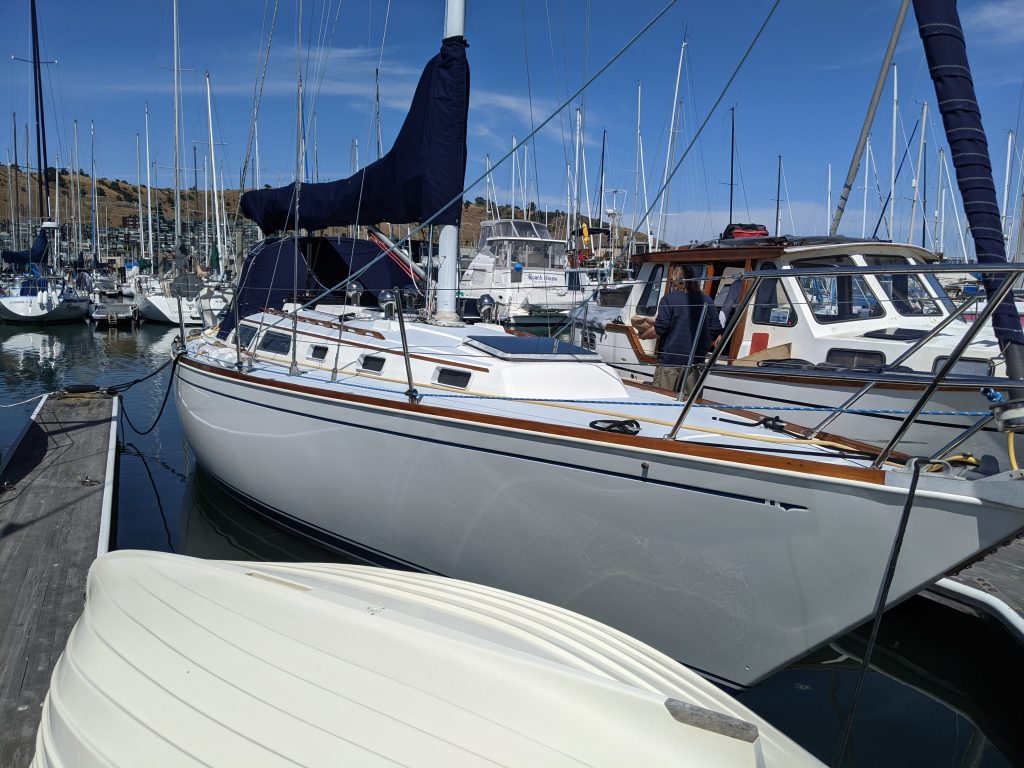 Read the next post on searching for sailboats… because that's where we are now!