In honor of our one month anniversary of "living" on our new boat, I thought I'd catch the old blog up with everything that's happened. Hard to believe it's only been a month, because it feels like it's been so much longer.
First off, yes, it's been a challenge as well as easy all at the same time. We moved from a 2300sf house in Port Townsend to a ~180sf boat. This was not the plan, but it's the way it turned out. The plan (which turned out was a loose plan) was to housesit in the Berkeley hills for friends of ours starting on November 1. A few things delayed that entry date, and we ended up on the boat temporarily until they were ready to leave the house. It looks like things are going to start to come together the way we thought they were going to somewhere around the 2nd week of December. After having been on the boat for a month now, and making this boat a home in the last month, I'm going to be sorry to say goodbye to her for now.
Why are we leaving then? We don't have the permission from Richmond Yacht Club to live on her yet… there's a limited number of liveaboard slots here, and we don't have one of them. The good thing is that there are some boat projects that need to be done that are difficult to accomplish while we are living on the boat… simple things like replacing the galley faucet. That requires the water to be turned off on the boat, and if it's not done within the day, then you don't have running water that night. Engine maintenance on the engine requires taking over the area right next to where I'm working, and it would be distracting and need to be cleaned up nightly so we can continue to live here.
Anyway, we will be staying aboard close to a week a month until we get the status we need, and maybe a couple of weeks a month and cruise the bay, staying at different docks and learning anchoring and how this boat reacts. All good stuff.
Things that I've learned since "moving aboard" on October 31:
I can adjust to living in any space, even one this small. Emotionally, it's not been an easy adjustment for me, especially feeling like we don't have a defined place to live… knowing we've been on a deadline to abandon ship due to the liveaboard status… and the delays with the housesit… but, we have gotten through this month together.
This boat feels large to me, and for a boat it's comfortable. The last boat was 4 feet smaller, and 3 feet less wide, but I never felt like I could comfortably live on that boat. The layout and the space on this new Prudence is perfect, and she has a lot of storage.
David and I fill up the 30 gallon holding tank within 2 weeks (in other words, 2 of us can pee 30 gallons in 2 weeks). We also use about 120 gallons of water every week and a half.
This life is going to work out pretty well. This life is simple… I paid bills yesterday… No car payments, no house payments, no boat payments, no utilities (for now). Verizon for the phones, and I also have a MiFi that I use for boat internet (speed is better than the wired internet we had in Port Townsend). Garbage gets taken off the boat, I shower every day in the marina shower (I don't have to clean it afterwards, there are housekeepers at the club for that). Even doing laundry hasn't been that much of a hassle, though I will admit I do take our clothes most weeks to the wash and fold in town and someone else does it. On Monday, I took the sheets and clothes over there, and 2 hours later everything was washed and folded (by me). I also took my computer and worked on emails and a couple other things while I was there, so it wasn't wasted time at all.
The Projects
We've done a few projects while we've been on the boat. The first and most important was replacing the morse cables that run from the throttle and shifter to the engine. When the boat came back from the yard, the shifter snapped when the boat was backed into the slip. It needed to be replaced anyway as it was super stiff, so it was not a surprise that it snapped. We replaced the morse cables on the previous boat, so didn't think this project would be a big deal… that was our first time, so 3 days seemed about right.
The first indication that this project was going to be a pain in the ass was learning that the cables were 22′ and 26′. On the last boat, they were only 8′ and 9′, so even though we'd gained only 4 feet on boat, we clearly gained a more complex system. Getting into the steering pedestal was not a problem, and that's where the "fun" started. There's not a direct access from there to the engine, so the cables go down the pedestal, wind back to the stern of the boat, go around and do the hokey pokey a few times, then down into the aft cabin, underneath the aft cushions, under the water heater, under the floorboards, and then into engine. And, all along the route, they've been zip tied to prevent chafing and keep them in place.
The first 6 hours we cleared the path, and we were elated because it was "so easy" and "we know what we're doing", so what we thought we were within a day of being done. We were only 4 days off. I also forgot to mention the reason we were in a hurry to do this project immediately is that we were living on board and using the toilet, and as mentioned before, it takes David and I 2 weeks to fill up the holding tank together. Prior to that, 5 women (me included) had been on board and I had not emptied the tank when I brought it back from that weekend. The tank was now full, and we couldn't empty it without being able to move the boat.
Good thing I had used a Temp-o-Head before; it came in handy for a week.
After 4 days of having the boat somewhat apart, calling our fellow Sabre 402 owner Sam for "tech support", calling Edson Marine, calling Sam a few more times, and hitting Google, David finally completely unlatched the cables, reran the cables, and got the engine hooked up. Finally we could take the boat over to the pumpout dock and start using the actual toilet again.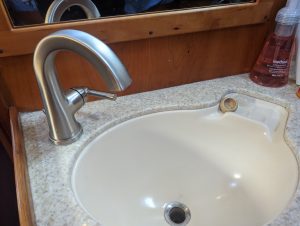 The other project we've started has been replacing the sink faucets. The faucet in the V berth has been replaced, and it brought the whole room together. After we start housesitting, we'll be able to replace the other 2 faucets. I'm looking forward to "modernizing" the space.
All in all, it's been a great experience so far. Frustrating at times, but I feel like we're finally doing what we've talked about doing all these years together.
In the next episode, learn how we start getting rid of the mounds of stuff we moved down here!
Happy December!