We went through an interesting twist this weekend when we started to consider spending another season here in Port Townsend. It was an 18 hour discussion, which resulted in us staying the course that we'd already discussed.
Ultimately I don't know if it was fear of making a drastic right turn here, fear of the unknown, or just talking about making sure we're doing the "right thing". Definitely for me, fear of the unknown does crop up occasionally and is always there in the undercurrents of my brain. Then, I have to remind myself that I never actually DID know what was coming next, and that it's important to just enjoy the moment and be…
grateful that I'm still upright and breathing.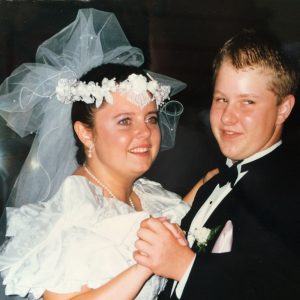 This has been an ongoing theme throughout my life. I was first married at 23 years old to a man I met when I was in college. I was the lead alto sax player, and Paul was the lead tenor sax player, in the Boston Conservatory Jazz Band. He was cute cute cute, and was pursuing his degree at MIT (dude graduated top of his class in Electrical Engineering, so he was a smart man too). Every other girl coming out of college was getting engaged, and I wanted to get engaged too. Fear of the unknown drove me to control the entire situation, which resulted in sitting in a mall parking lot "getting engaged" right after we had bought the ring (together) at Zales in the mall.
I had other girlfriends who were getting magical romantic proposals, and as I aged (and now divorced) I realized that I had really shorted myself the
"magic of life"
by worrying about what I couldn't control but faked myself out to believing I could control it.
Fast forward to meeting David, and even though this same personality quirk was there, I committed to letting myself not get in the way of life. When David asked me to marry him, not only did I not believe him (in fact, my response was "are you fucking with me?"), but David also waited until we were high above the Napa Valley in a hot air balloon trip I had actually bought HIM for his 50th birthday. It was truly romantic and magical and everything I thought only other girls lived through (but not me). Not only all of that, but I ended up with the partner I always wanted, because I stopped trying to control everything. Anyone that knows David knows that he is stubborn and has very firm well-established boundaries. Nobody gonna control that man other than that man.
At 53 years old, I've learned to live with this need to control things, and recognize when I'm slipping into these old patterns. I've become better at controlling my fear.
When you are making an audacious right turn, and about to jump off a cliff into an abyss you know little about, it's best to just hold your breath and trust that you will get through this no matter what. The pay off of the experience is better than not experiencing it at all in my opinion.
Jump