We bought Prudence, our 1986 Sabre 36 CB, in December 2017. I've been remiss in putting up a blog, though it's been on my mind a lot. I wanted to be open about what we were spending, upgrading, and our future plans for our boat, but I never did get around to putting the site together until now.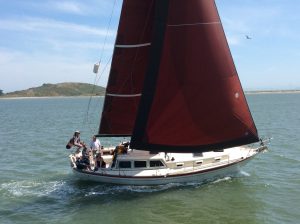 A little background for those that don't know… I met David in December 2013 right after the America's Cup in San Francisco had come to a close. David and I were both very active in the sailing community, but he being an avid racer and me being an avid cruiser, never did we meet. I'm not embarrassed to admit that we met on Match.com, even though 100 of our "closest friends" never did put us together. He had a 1978 Islander Freeport named "Prudence" (aka "Old Pru"). Prudence was actually a beautiful boat underneath all her projects. Between 2013 and 2017, David and I spent countless hours on her, working towards making her a proper living boat as well as sailing the heck out of her. I guess it became a bit of an obsession, and we enjoyed working on it together. I started to refer to her as "Boat University". The breaking point on our love for Old Pru came when we found the "final leak" we had been chasing, and it was the portholes. Replacing the portholes because a massive project requiring Tyvek suits and grinders, and finally David was willing to let that relationship go and move on to a new healthier boat.
We fell in love with Sabre sailboats when we went cruising in Maine with David's brother Mike and his wife Amanda. Amanda's dad has a Sabre 38, and we spent a week with them sailing in and out of coves up the coast of Maine. Add to that both of our backgrounds with New England and it was a good match again. When Old Pru fell out of favor, we started looking at newer boats, focusing on Sabres in particular. It's very difficult to find Sabres on the west coast, as they are hand-built and well-loved on the east coast.
We found "New Pru" in Seattle in December during a particularily long downpour, and she didn't leak. Looking back, it may have been that one thing that really drew us in initially (well, that and the fact that she was an untouched, original Sabre, with no modifications at all other than having been maintained properly). We bought her (previous name "Austral") in mid-December, telling each other she was a joint Christmas gift. I also had managed to sell Old Pru as a project boat in a 48 hour timespan at the end of November, with my primary objective of getting her out of our slip to get ready for a new boat that was for sure going to be here any day.
New Pru was delivered to KKMI from Seattle by truck in January. It was such an odd thing seeing our sailboat sitting on the back of a truck in the middle of one of our major roads around the corner from us. She spent a month in the yard getting new bottom paint, new thru-hulls (they were also original), new lifelines, new stern name applied, and a bunch of other small things just to make her ours. We had a christening party in the yard. Finally, she was splashed and arrived in her slip at Richmond Yacht Club at the end of January.
We've spent almost every weekend either sailing her or working on her, though there's not a lot of work to do on her. I think after 4 years of the constant work on Old Pru, it felt like we needed to continue, but moving a paper towel rack or installing a hook aren't really big projects. In the 10 months we've had her, we've only had to do one larger project, and Boat University kicked in again. It was a great experience, and we're both glad that we worked together to replace the shift and throttle cables. We learned a lot about the aft end of the boat, and how it's all put together.
We're very happy with our new boat. Here's hoping I can continue with the blogging from here on out, and updating when we do something consequential (or at least consequential to us).