I was downloading the photos from the previous 2 weeks so I could start writing this post, and was amazed at how much has happened in the last 2 weeks. We arrived in Grou to pick up the boat on June 4, and frantically spent 2 days cleaning, grocery shopping, and getting the boat ready for our first guests Kim and Mike. They arrived on June 6, and we spent 6 days here on the boat doing some cruising down to Sneek, and wandering back up a thin canal to Grou that required waiting for multiple bridges to raise as well as one bridge that was low enough we had to lower the windows and the mast to get under it. We delivered Compagnon back to the boatyard for a few other fixes while the 4 of us took advantage of being in Europe and we took a train to Berlin (well, it was more like multiple trains).
On June 6, Kim and Mike arrived in the afternoon quite tired after their long trip overseas. So, we hung out around the boat and on Tuesday, Mike (who is an engineer and can't help himself) dove right into the electronics on the boat. David and Mike discovered that our batteries were dead (we were unaware of this, as we spend most of our time connected to a dock or the side of a canal). They went in search of batteries while Kim and I worked on our clients and the new company we're building.
Once David returned, he also worked – ALWAYS doing his morning "Coffee and Stretch" at 4p (7a PST) (we call it "Wine and Stretch" from here).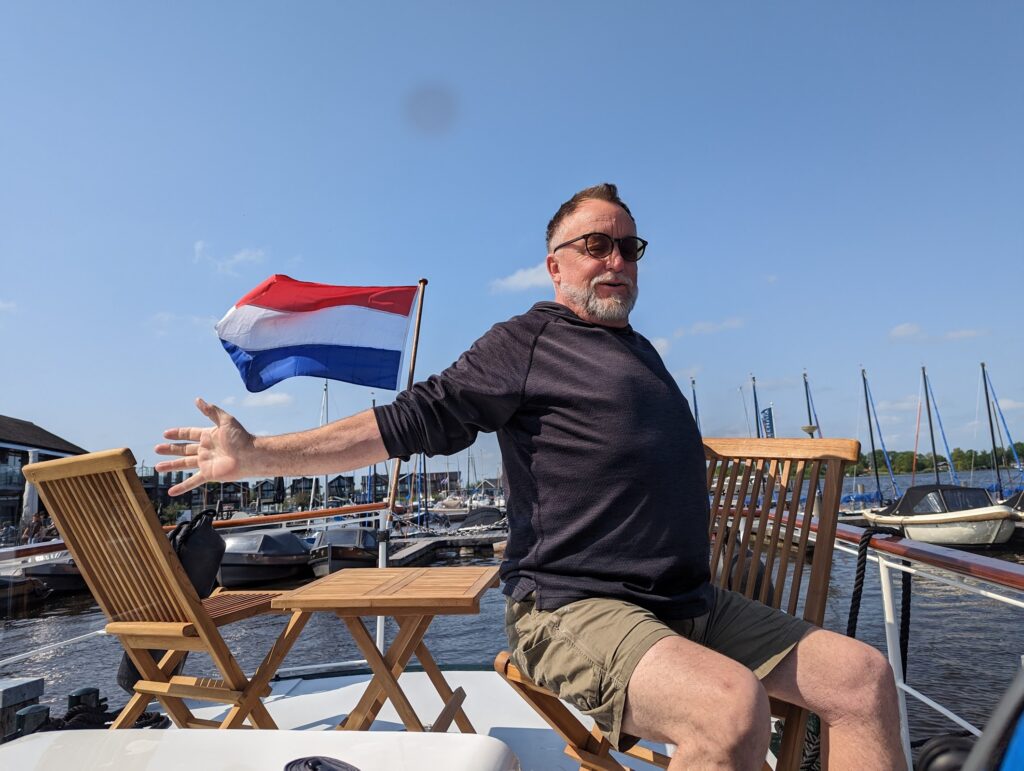 We finally left for one of our favorite Frisian towns, Sneek, on Wednesday (see previous blog). It's a short hop down the canal, and we were able to tie up in "downtown" Sneek, right next to the road. After a couple of lovely days there (and an incredibly delicious dinner at Mezzaluna), we decided to come back to Grou a different way and stay the night in Akkrum. Upon arriving in Akkrum, we discovered that it's sort of like Tracy … full of RVs, full of people, lots of beer drinking and well… we thought we might be better off coming back to Grou (I'll leave it at that).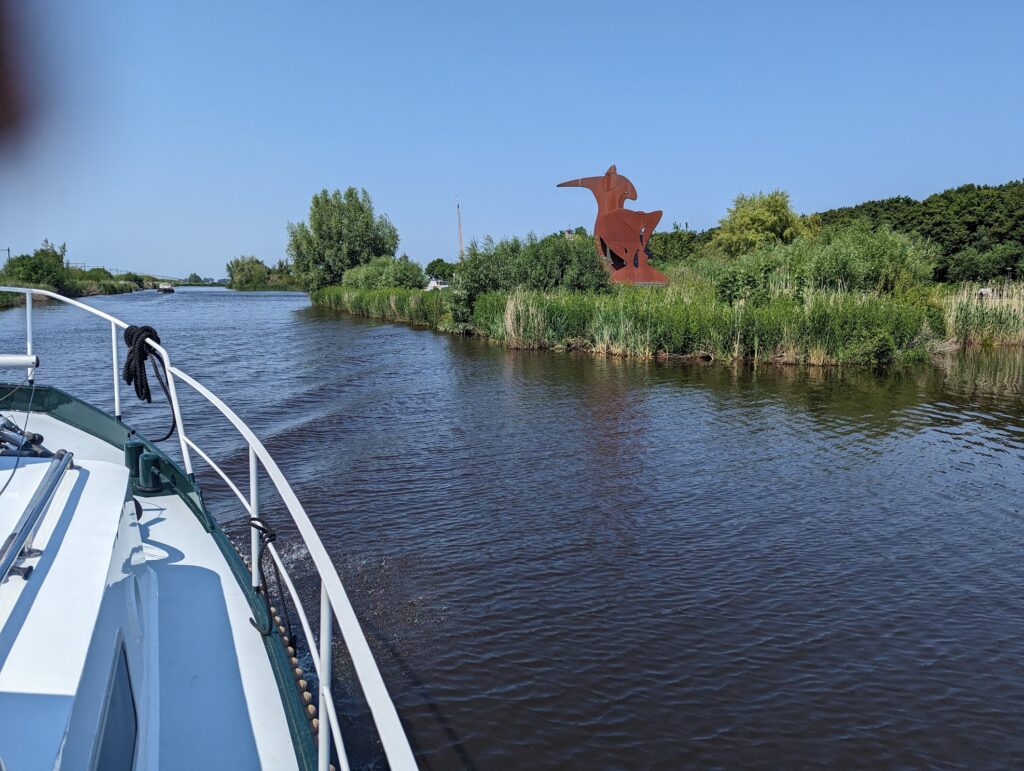 The trip to Grou from Akkrum was awesome. We had to go under 4 bridges and one of them was 3.3m high (the boat is 5.1m with the windows and the mast up.
4 sailors on board, what do we do?
Drop the mast, drop the windows, motor under the bridge. That's what you do.
We arrived back to Grou just in time to sit on the back deck of the boat and watch people dock
One of the pleasures of being here in Grou is sitting on the back deck of the boat watching boats motor by, or even better try to dock. This is better than Angel Island at high season. A lot of boat owners here simply do not know how to drive boats, and there are a lot of boats that are quite large. At 10.6m (about 36′), we're on the "smaller" end for some of these, and it's kind of hilarious watching people try to squeeze boats that are 2 times too big into some of these spots. Kim and I sat on the back deck and directed traffic because it was a super busy evening, and everyone was vying for a spot. We often saw full boats of people coming into a dock, and nobody had a line in their hand yet there were 4 cleats ("frogs" over here) to tie the boat to the dock.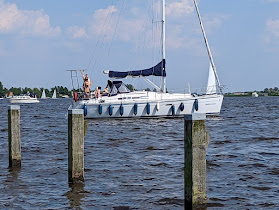 We call this photo "Fender Bender". This guy had 10 fenders on both sides.
Leeuwarden – The Provincial Capital of Friesland
On Saturday June 10 we took the 15 minute train ride to Leeuwarden, just to get out of the small town of Grou for the day. Leeuwarden is a 10th century town, and is the economic hub of Friesland. We can go by boat (David and I will likely go there next as of this writing), but we chose train this time since our boat was going back to the boatyard for a couple tweaks while we go to Berlin.
I like Leeuwarden. There's a lot of things to do and good restaurants. Like a lot of Friesland, a lot of places here don't take credit cards either… which makes it super important to always have a couple hundred Euro handy.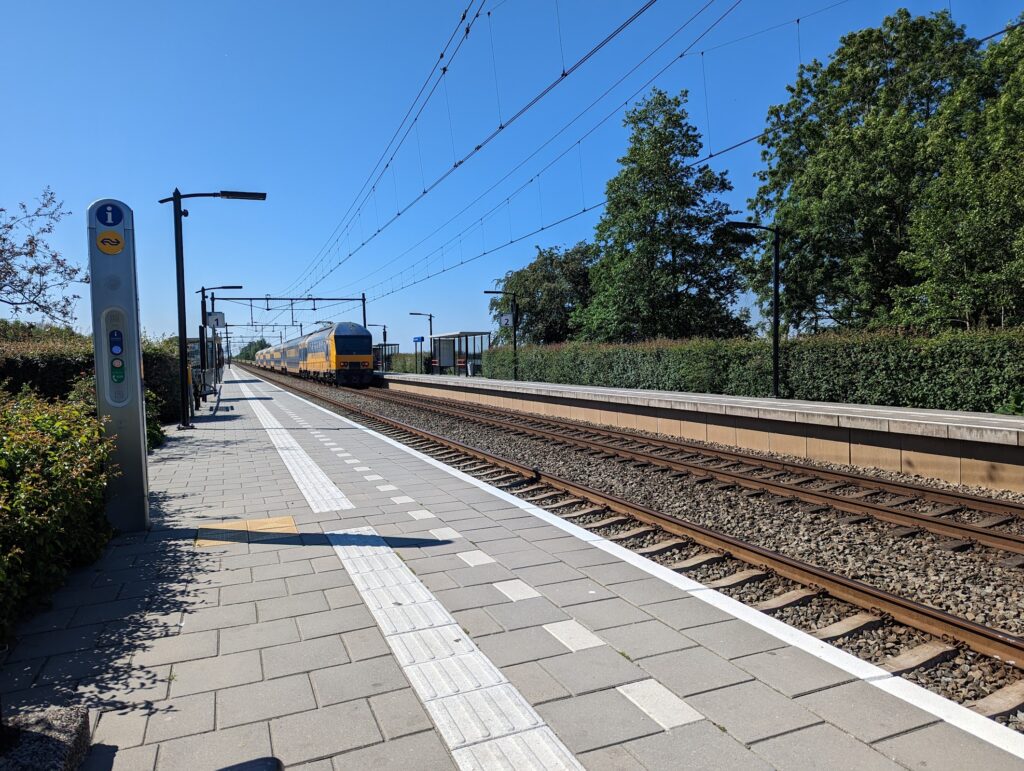 About the fountains… the eleven fountains correspond to the 11 cities on the Elfstedentocht (the ice skating race here when the canals are frozen). Each city has a fountain that was built by an internationally known artist.
Finally, after a hearty boat breakfast on Sunday, we packed and started to make our way towards Berlin.